Learn How To Defeat A Bigger, Stronger Opponent Today With Our BJJ Classes
Brazilian Jiu-Jitsu is unlike any other Martial Art because it teaches you that strength and size don't matter. Learn how to overcome an opponent that is bigger and stronger today by mastering the art of Brazilian Jiu Jitsu and learning how to use proper technique and leverage to your advantage.
As a Level 2 Pedro Sauer Affiliate certified school, we are proud to offer you the highest quality BJJ classes in Rockville. At Pure Performance Martial Arts Center, you can be sure that you'll get the best Gi and No-Gi instruction around.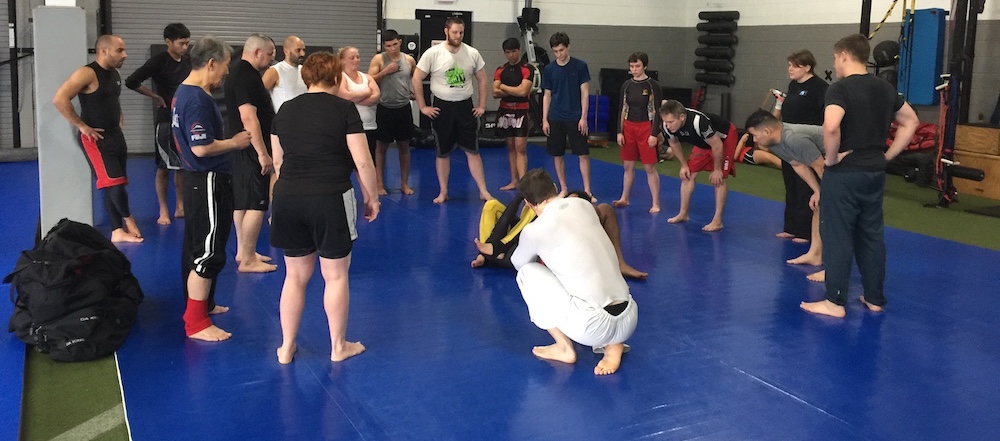 So How Do These Brazilian Jiu Jitsu Classes Work?
The goal of our Brazilian Jiu Jitsu classes in Rockville is to teach men and women of all ages and abilities how to overcome an opponent on the ground. You'll learn how to use your entire body to gain superior leverage over an opponent and build the best ground grappling skills with perfect technique and body mechanics.
Our Brazilian Jiu Jitsu Classes at Pure Performance Martial Arts Center consist of four key elements:
Power warmups: A warm muscle is a flexible one. This is one of many ways we protect against injury, increase flexibility and build cardiovascular fitness.
Master Instruction: Get Expert, Black-Belt Instruction on ground fighting techniques, take-downs, submissions, escapes and more. Learn how to gain the dominant position in any fight.
Drilling Practice: Try what you've learned under supervised conditions with a class partner. Our instructors will walk around and give you personalized tips on how to perfect your technique.
Sparring Training: Sparring Training: Implement your skills with training partners from your class in a friendly, supervised environment. This will help your new skills become natural.
Get In Great Shape In A Hurry As You Master Every Element Of The Brazilian Jiu Jitsu Strategy
Because Brazilian Jiu-Jitsu is such a total-body effort, you'll push your body like never before as you advance through our program. You'll work muscles you never knew existed and burn hundreds of calories with each and every session.
In no time, you'll combine powerful, efficient techniques like:
Chokes and holds
Throws and takedowns
Street-fighting strategies
With incredible total-body results like:
Lean, toned muscles
Boosted core strength
Improved cardiovascular health
And best of all: You'll walk away with more confidence than ever before!
Get Started Today With The Best Brazilian Jiu Jitsu Classes In Rockville
Don't miss out on our comprehensive approach to Brazilian Jiu-Jitsu at Pure Performance Martial Arts Center. Our BJJ classes are second to none and we can't wait for you to get started.
And don't forget about our Kids Brazilian Jiu Jitsu classes!
Learn more or reserve 2 FREE Trial Classes today by simply filling out the short form on your screen. We'll be glad to answer all of your questions in no time!